Khmer Youth Development Centre

Introduction
Partners against Poverty, Khmer youth development centre (KYDC) is located next door to a large, regional government high school in Takeo Cambodia. A function of the KYDC facility is to provide safe and secure accomodation for students from outlying areas where they can participate in our community computer and English language training programs. Most of the live in students, both Christian and Buddhist, attend the KYDC Thursday night, Christian Alpha course. This course provides us a unique opportunity to share Christian beliefs and principles and to teach vital skills needed to make good choices in an increasingly difficult world.
For the 1100 students at the neighbouring school, participation in any form of life skills training is virtually unheard of. Drug use is reaching epidemic proportions, driven by local dealers, encouraged by distribution gangs from the city. The social cost of drug and alcohol abuse is enormous, teen challenge and other drug rehabilitation centres are under funded and mostly overcrowded. Fighting drug abuse after the fact, seems such a waste of young lives given the opportunities we have for effective and timely intervention.
The KYDC centre has developed a reputation amongst students at Samdach Au for being a safe haven, a fun place to visit. A place of care, support and learning. Kids from the adjoining school often visit, yet we don't have any formal programs to encourage them to stay. We see an obvious need for a well structured youth program, a program with a focus on providing peer to peer interaction, mentoring and when appropriate, a space to share our hope. A place where we might encourage wider participation in Christian programs. With 1100 kids on our doorstep we have an amazing opportunity to share the Gospel.
Bible school graduates ready to set out in ministry lack opportunities to mature and grow under the guidance of experienced ministry leaders. Those called to international mission start out with passion and determination but without careful preparation for ministry they can flounder. Experience and cultural understanding are skills that come from exposure. KYDC is well placed to provide a diverse, hands on, well supervised training field for local graduates and international missionaries.
Cambodian Child Development Program
THE BELOVED CHILD
A Course Curriculum Designed to Reinforce a Biblically-Based Sense of Dignity and Importance Among Children in Less-Privileged Developing Countries
By: Rowena S. Estrebilla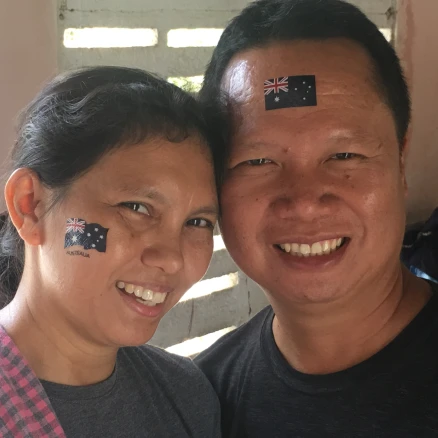 Course Description
When Jesus Christ came to earth, the message of God was incarnated into relevant, real-life human context. We get in here the example of how God wants to make sure the recipients of His message could easily grasp what He is trying to teach us. "The Beloved Child" has been conceptualized with this principle in mind. Although it can be easily adapted to suit a variety of contexts, it was originally written with the needs and context of children in the rural areas of a developing country in Asia. In most cases, children in these areas are facing a wide array of deprivation: physical and material; mental and emotional; social and spiritual and the support system that is supposed to be addressing these needs are usually occupied with a host of other priorities, leaving behind a gaping hole in the hearts and minds of these children. This course is meant to lead these children to experience and find these needs addressed in the loving arms of Jesus. Prepared by children's workers living and ministering in the above-mentioned socio-economic situations, this curriculum stresses the basic value of a child as created in the image and likeness of God, redeemed from sin by the blood of Jesus, and needed by God to actively take part in building His kingdom in their family, community, nation and the world.
Course Outcomes
Through participation in their respective children's devotions utilizing this curriculum in their local churches, children will learn:
• Biblical principles and mindsets concerning their God-given value and dignity
• Virtues that will help shape their character for life, as beloved of God, their family and community
• Basic spiritual disciplines toward healthy and fruitful Christian life and witness
• Christ-like character traits that will prepare them toward becoming honorable and godly citizens
Course Outline
I. BELOVED OF GOD
• Created in Love (Concept of Creation)
• Lost and Missed (Fall of Man and Concept of Sin)
• Sought After (The Story of Jesus, Salvation and Redemption)
• Coming Home (Repentance)
• Time with Papa (Prayer)
• Papa's Love Letter (Reading and Studying the Bible)
• Yes, Lord! (Learning Obedience)
• The Best Choice (Choosing to Please God)
• Experiencing the Father's Love
• Knowing the Faithful God
• Thankful Heart (Appreciating God's Goodness)
• Learning God's Holiness
II. BELOVED IN THE FAMILY
• Obeying My Parents
• The Fruits of Diligence
• Truthfulness Pays
• Freedom in Forgiveness
• The Joy of Giving
• Helping Hands
• The Strength of the Gentle
• The Humble Heart
• True Courage
• Stick to it! (Perseverance)
• Love Cares
• The Mark of Growth (Learning Responsibility)
III. BELOVED IN THE COMMUNITY
• Loving Discipline (Appreciating the value of training, authority and order)
• Valuing Others
• I Belong (Being a Good Team Player)
• The Warmth of Friendship
• Standing on a Solid Ground (Stability)
• The Peacemaker
• I Can Fit (Flexibility)
• Wise Living
• I Can Learn (Teachability)
• I Can Be an Encouragement
• Contentment Shines (Antidote to Envy and Jealousy)
• Blessed to be a Blessing (Learning to Share)
Drug Abuse Awareness and Intervention
Background
Reliable statistics can be few and far between in Cambodia, a 15th Dec, 2016 report in the Phnom Penh Post (Link to details here) suggested that drug abuse had risen a staggering 30% nationally over the 2015-16 year with arrests of near 10,000 in that year alone.
After more than twelve months experience working with Samdach-Au students PaP believe there is a dire need for a school based drug awareness and intervention program.
In November 2017 PaP approached the school Board to discuss the possibility of joining forces to tackle the issue. Subsequent meetings resulted in approval for our team to create and deliver ongoing drug awareness seminars for students. We are also prepared to work with the school board as they develop and implement a school drug and alcohol abuse management strategy.
The school Board, being acutely aware of the need and intent on maximising the opportunity, referred PaP to local police, military police and Commune leadership in the hope of enlisting their support and or participation.
From the office of local government PaP were referred on to the Provincial Department of Education. Each of the offices we spoke to were keen to develop the concept.
PaP have now been given a green light to design and implement the program while police, school and Government officials have expressed a desire to be included in the delivery.
Program outline
Our intention is to develop and deliver a 1/2 day, drug and alcohol abuse awareness seminar, for year 11 and 12 students with the assistance of local police, school and government officials. The first half of the morning program will involve presentations to students from people closely associated with the fall out of issues related to drug and alcohol abuse. Law enforcement, school management, social workers and people who have had experience with addiction. We envisage some very clear before and after
comparisons.
The second part of the program will offer students a variety of interactive sessions designed to encourage questions, explore tried and proven concepts to combat the challenge of peer pressure and other issues that might lead to abuse. We expect to acquaint students with the school intervention strategy and perhaps even enlist their help to formulate policy.
The project development and implementation will be shaped by strategies outlined in the United Nations office of drugs and crime framework "school based education for drug abuse prevention". (Link to details here )